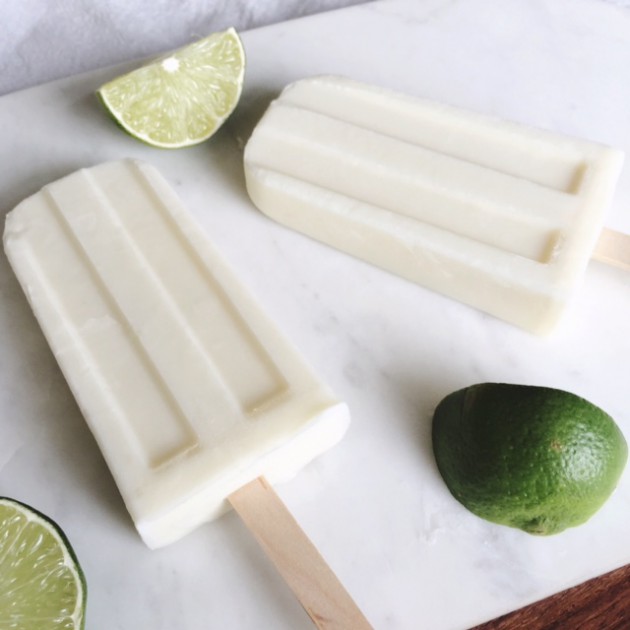 I don't know about you, but there is something about making treats and desserts for my kids and husband that just makes me feel good inside. Maybe it's because it's my way of showing them I love them and care. Or maybe because it takes me back to a time when I idealize a simpler life. Don't get me wrong, I'm all about shaving off minutes of my day by picking up ready made at the store. But when I have a moment, I love making treats and snack for my family.
I digress…Are you ready for the easiest, and might I add, yummiest limecicles ever?! My girls love these time and time again and they are by far their favorite of the rotation. I found the recipe from Girl vs. Dough (love her site!) last summer and with a little tweak (more lime!!), I made them continuously throughout the season.  I have recently pulled the recipe out of the archives already for this year. With just three ingredients and a freezer, you will with out a doubt be the "cool" mom 😉
Limecicles
Recipe adapted from Girl vs. Dough
Prep Time: 
Total Time: 
Yields About 12 (3oz) Popciclces
Ingredients
2 cups milk (I used 2%)
1 cup fresh lime juice (from about 8 to 10 small limes)
1 (14 oz) can sweetened condensed milk
Directions
Pour milk, lime juice and sweetened condensed milk into a large bowl; stir until well combined.
Pour mixture into popsicle molds; place a popsicle stick in the center of each mold.
Cover and freeze at least 8 hours or overnight. To easily remove popsicles from the mold, dip the mold in a bowl or container of warm water for 10 to 15 seconds.