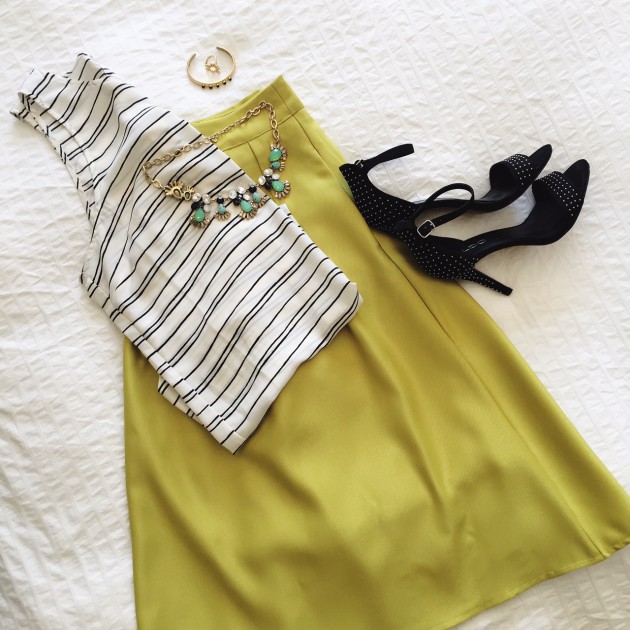 We had a wedding this last weekend, as I am sure most people are on the wedding circuit during these summer months. We don't have as many the last few years since most of our friends are married and even finished having all of their kids. So a wedding here or there is kind of fun and not a burden 🙂
I have to say, I had some of the most fun I've had in a long time getting dressed up. It's a rare occasion for me these days, with fewer weddings to go to, being a stay at home mom, and just plain ol' busy with the kids. The week before I did a last minute shopping spree on Amazon (Amen to Prime!) for a fun skirt. I was surprised that there were so many cute tea length full skirts for a steal! There was still the question of quality, but I could always return them. So I took a gamble and ordered a green one and the yellow one you see in the picture. I'm returning a few others I tried, but the green and yellow ones are amazing for $20!! I'm keeping both 🙂 Then with a little inspiration from what I had in my closet, I settled on the stripe blouse from Target, black studded shoes from Aldo (years ago), and jewelry from Madewell and Loft. A pretty inexpensive outfit that was fun, easy (skirt has pockets – bonus!) and comfortable…minus the hot weather!! That part I wasn't a fan of and could have used cool air zipping up my skirt. But we can't have it all, right?!
And the best part about getting dressed up this weekend? My girls were away with grandma and grandpa so I actually had time to think about what I wanted to wear without little ones crowding around me in my closet and asking a million questions or needing something every 10 seconds…so maybe it wasn't the actual outfit, but simply that I had TIME 😉
Enjoy the wedding season!