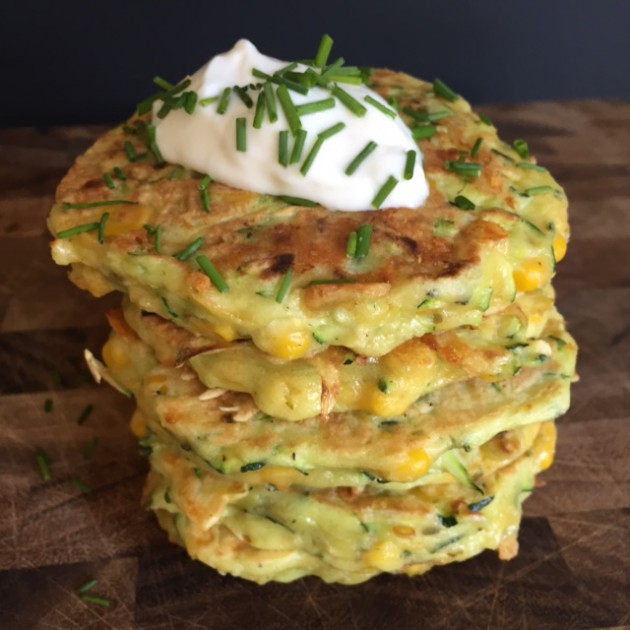 So I'm in serious need of some good ol' comfort food and I'm sorry, but I just can't wait until the fall for it to be "acceptable" again to indulge myself in mashed potatoes, mac n cheese, mashed potatoes…I mentioned that one already didn't I? That said, this is a comfort food disguised in a spring package! They are easy, flavorful, seasonal and down-right comforting. In fact I am eating some right now 🙂 Perfect for a quick throw together dinner or even make mini ones for an appetizer for a ladies night in.
Recipe adapted from King Arthur
Ingredients:
5 large eggs, beaten
1/4 cup olive oil
2 tsp salt
1/2 tsp ground pepper
1 tsp dried oregano
3 cups grated zucchini (about one large zucchini)
1 cup fresh sweet corn off the cob or frozen corn
1 cup shredded cheddar cheese (or your favorite cheese)
1 cup unbleached all-purpose flour
Directions:
In a large bowl, combine eggs, oil, salt, pepper and dried herbs. Whisk to combine.
Add the zucchini, corn and cheddar cheese and stir thoroughly with a spatula.
Add the flour and stir until thoroughly combined and there are no pockets of dry flour hiding in the batter.
Heat a large cast-iron skillet or griddle to medium-high heat, adding a very small amount of oil to the skillet/griddle. I used cooking spray to make it easy. Using an ice cream scoop, scoop 1/4-cupfuls of batter onto the skillet and flatten with the back of the scoop into a circle about 4 inches in diameter. Cook on each side about 3-4 minutes, or until a deep golden brown. Remove from skillet and transfer to a plate. Repeat with remaining batter. Serve warm with your favorite toppings.