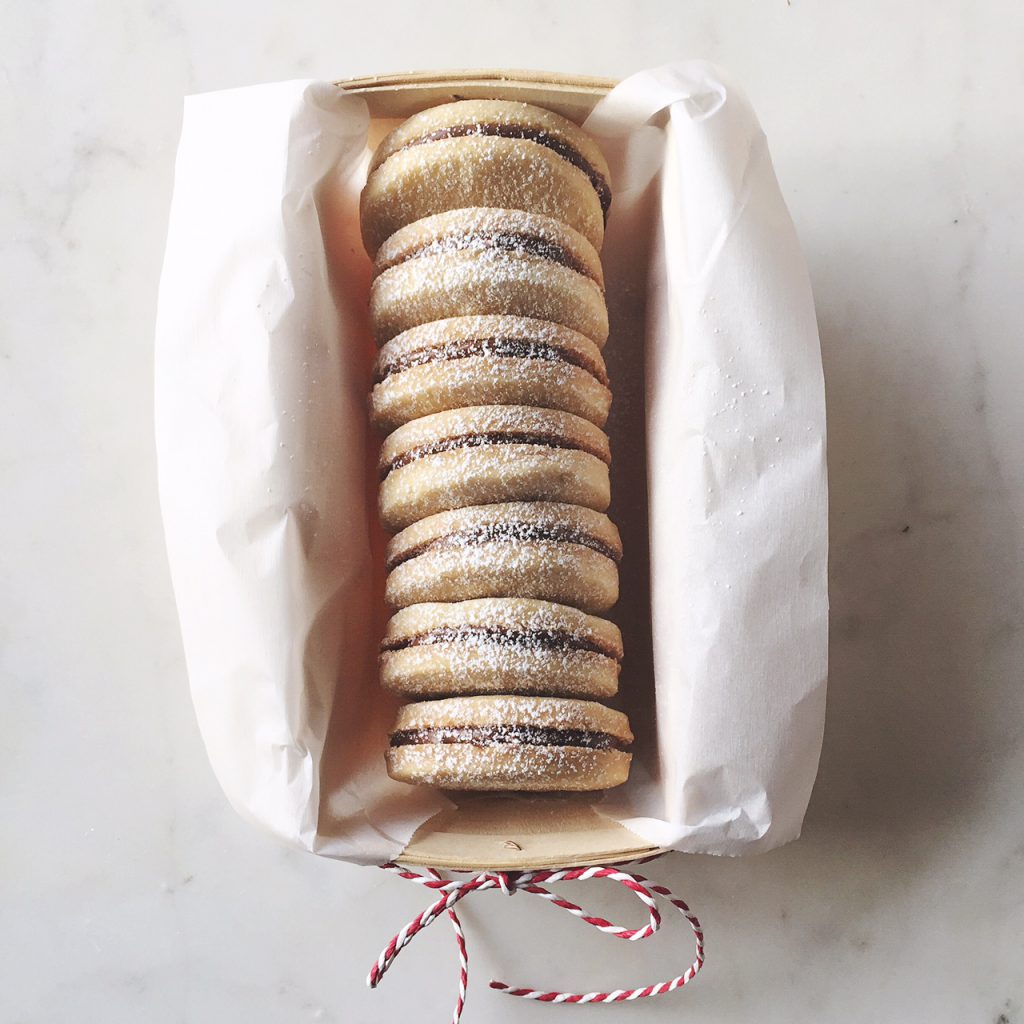 I'm failing my early New Year's resolution already 🙁 I vowed I would only make one Christmas cookie this year since they don't get eaten like they used to (this low sugar thing, blah, blah, blah). I let me girls pick what kind they wanted and of course they wanted cut-out sugar cookies with all the bells and whistles of frosting and sprinkles (insert heavy sigh here). I resolved myself to say that was ok. But I should know myself better after 39 years of this. Lying in bed the other night, I was thinking about my Nana's shortbread that I loved as a kid and haven't made in several years. Then I thought how much I love Nutella…errrr… chocolate hazelnut butter. Hello! A marriage made in heaven I say.
So I made my own Nutella from my Blendtec cookbook. Super easy by the way. Then I set about making the shortbread yesterday. As you can see by my little post-it note, that's all I have of my Nana's recipe. I have no idea where it came from, but my dad grew up with them, my mom made them for my brother and I as kids and now I make them. It's a super simple recipe with few ingredients. I think it's the simplicity that I like. Or maybe it's the memories I hold on to of my Nana who passed when I was young. Or maybe it's the brown sugar, buttery, flakiness of the cookies that I love. I'm guessing it's the whole package 🙂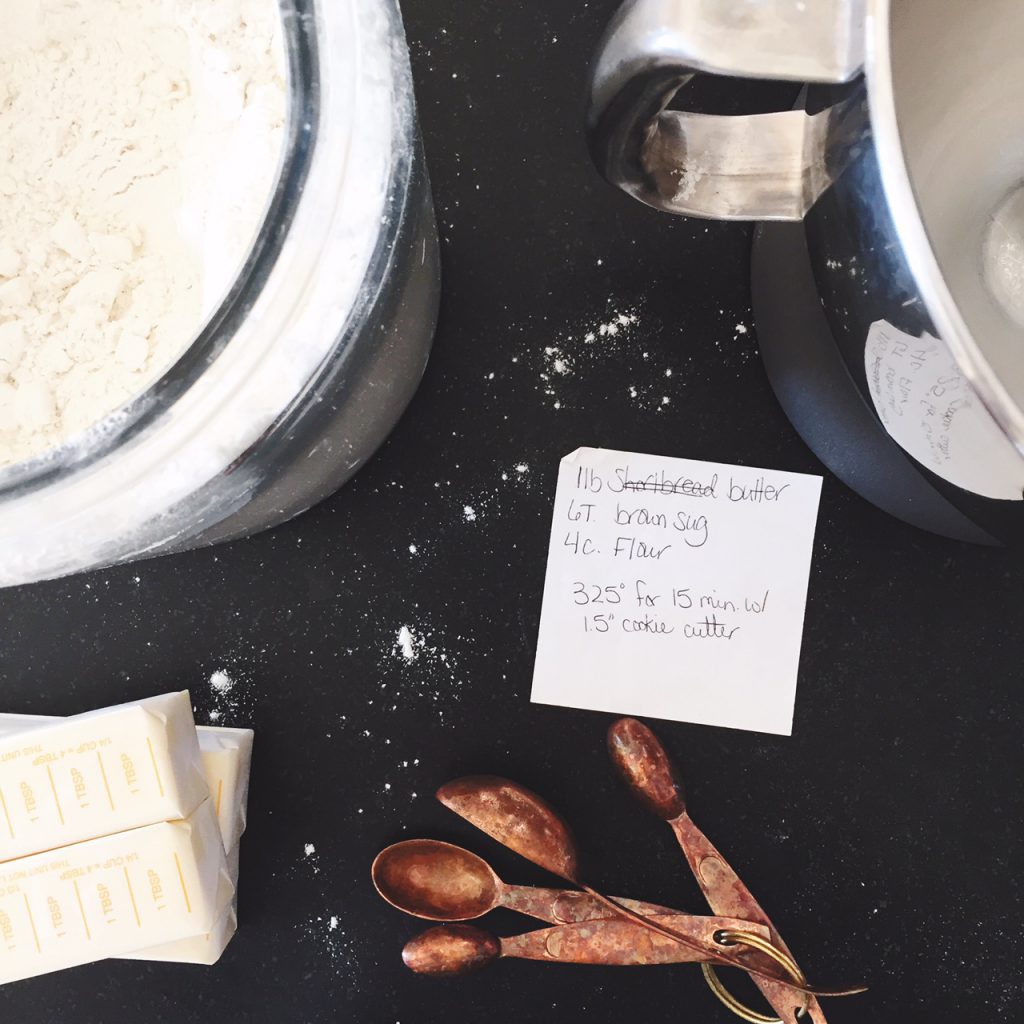 Without further ado here is the recipe for the chocolate nut butter and shortbread:
Chocolate Hazelnut butter: recipe from Blendtec
Ingredients:
2   cups 

toasted hazelnuts
1⁄2   cup coconut oil, melted
1⁄2   cup cocoa powder

1   tsp 

vanilla extract

1   cup 

powdered sugar
Directions:
Add coconut oil and hazelnuts to FourSide or WildSide+ jar and secure lid (If making in Twister jar, decrease ingredients by half). Blend on a low speed for 15 seconds and then increase to a high speed for 35 seconds (until blended time reads 50 seconds).
Stir mixture towards center of jar, then secure lid.
Blend on a medium speed for 50 seconds. Stir, secure lid, and repeat this cycle two more times.
Add cocoa powder, vanilla extract, and powdered sugar to jar and secure lid. Blend on a medium speed for 50 seconds.
Store in an airtight container in the refrigerator for 4-6 weeks. Bring to room temperature before serving or spreading on shortbread cookies.
*Note: To toast hazelnuts, preheat oven to 350°F. Spread hazelnuts on shallow baking sheet and toast in oven until skins darken, approximately 8-10 minutes. To ensure even toasting, stir the hazelnuts after 4-5 minutes in oven, then finish toasting. Wrap the cooled hazelnuts in a clean kitchen towel and rub towel back and forth to remove most of the hazelnut skins.
Nana's Shortbread Recipe:
Ingredients:
1 pound cold unsalted butter, cubed
6 tbsp brown sugar
4 cups white flour
1/2 tsp salt
Directions: Makes Approx. 30-40 individual cookies (15-20 sandwich cookies)
Heat oven to 325°
In a standing mixer, mix on medium low all ingredients until dough just comes together, but be careful not to over mix or over handle the dough!! Form dough into a disc and wrap in plastic wrap. Chill for 30 minutes.
Roll out dough to approx. 3/8 inch thick. Cut circles using a 1.5″ circle cookie cutter. *I used a 2″ in the picture above, but personally they would be better smaller and would get more cookies!
Bake on cookie sheet lined with parchment paper or silpat liner for 10-15 minutes depending on your oven. Keep an eye on them the last few minutes. The bottoms should be just lightly browned.
Once cooled, spread one cookie with chocolate hazelnut butter and place another on top. Store in fridge or freezer. Enjoy!