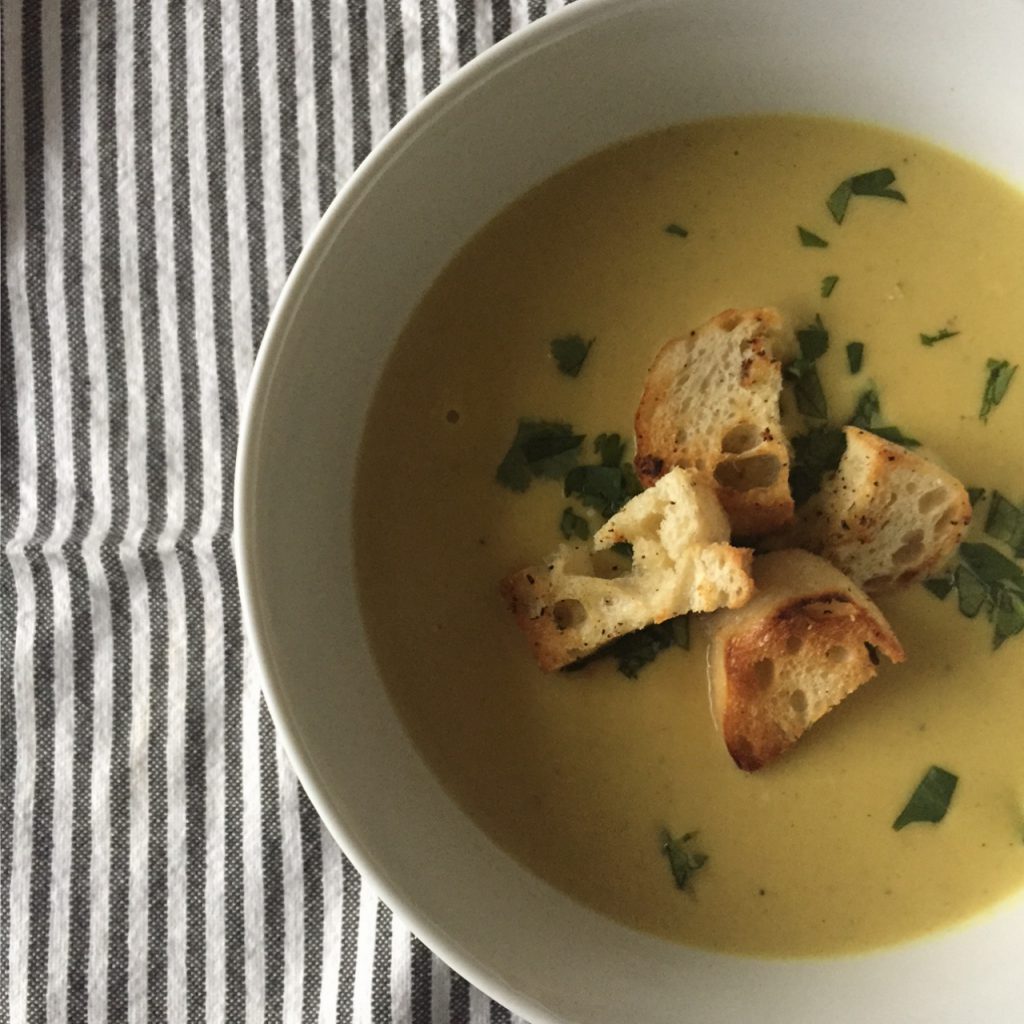 I recently discovered cashew cream (instead of using regular cream) from the blogger Pinch of Yum over on Instagram. I made the cashew cream the other day to use in her creamy tomato sauce pasta and it was so good (you should try it!) and better yet, it was soooo easy! But I had about half of the cashew cream left over and I didn't want the creamy cashew goodness to go to waste so I thought it would work well in a cauliflower soup I had been wanting to make. And what goes better with cashews than curry? They are made for each other, and quite frankly, cauliflower flawlessly cuddles up with those two perfectly as well.
I was thinking this soup is either going to be a complete miss or a complete hit. And from my perspective, it was a complete hit (otherwise I wouldn't be sharing my fail, right?!). Even my picky 5 year old said she liked it (wha, wha??!!). My 8 year wouldn't try it, but she is usually my food adventurer so I'll give her a pass this time and say she was just in a stinker of a mood. Which she was. So here is the recipe to give it a try and I am curious what you think.
Curried Cauliflower Soup with Cashew Cream
Ingredients
1 head cauliflower, cut into florets
2 tablespoons vegetable oil
1 teaspoon salt
1 tablespoon butter, cut into small pieces
1 large yellow onion, diced
4 cloves crushed garlic
1 teaspoon curry powder
1 teaspoon ground turmeric
1 quart vegetable stock
2 cups cashews
2 1/2 cup water
salt and ground black pepper to taste
2 tablespoons chopped fresh parsley or cilantro
Directions
Heat Olive oil in a large pot over medium  heat. Saute onions in oil until soft, about 5 minutes. Stir garlic into the onion and continue to cook until fragrant, about 1-2 minutes more; season with curry powder and ground turmeric. Stir until combined.
Stir chopped cauliflower with the onion mixture. Pour stock and 2 cups water over the cauliflower mixture. Place a cover on the saucepan and bring the stock to a boil. Immediately remove the cover, reduce heat to low, and cook at a simmer until the liquid reduces slightly, about 10 minutes.
Puree mixture in the saucepan with an immersion blender until mostly smooth.
In a blender, blend the cashews with the remaining 1/2 cup water. Blend until very smooth. Reserve half of your "cashew cream" in the fridge for another recipe, and add the other half to the soup pot. Stir until creamy.
Stir cashew cream into the soup; season with salt and pepper. Ladle soup into bowls and garnish with parsley/cilantro and/or croutons if you have them.