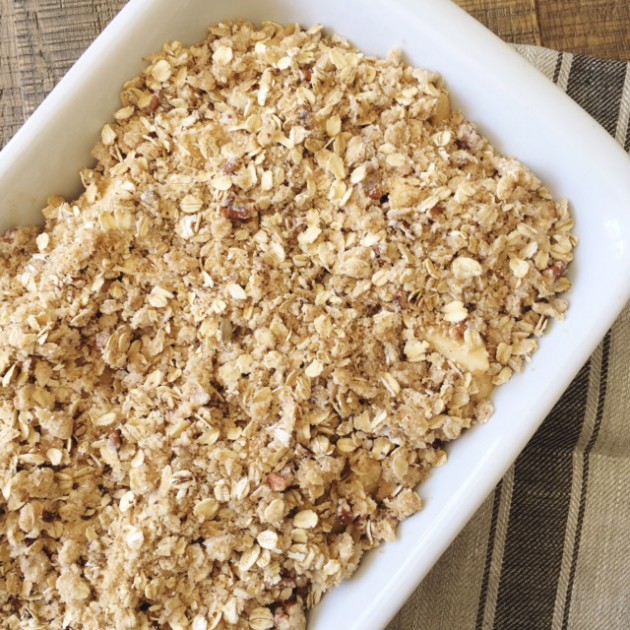 It seems these days I have a LOT of friends that have diet restrictions. All for various reasons and all different restrictions. It used to be that I was the one that was difficult to have over for dinner being a vegetarian. Now I'm pretty easy by comparison! Last night we had over one of my long time dear friends and her family for dinner. She is gluten, dairy and soy free (gulp!). We ended up dividing the meal between the two of us to make it easier on both, but I said I would make a dessert. More or less because my mom just gave me a box full of apples that are perfect for baking and I needed to start making a dent in them!
A crumble is pretty easy to get around the no dairy – just use coconut oil for the butter. The flour in theory is pretty easy because it doesn't call for much and there is gluten free flour, which I thought I had but I didn't. I love a good food challenge so I set forth on creating a gluten and dairy free apple crumble. I used my base recipe from Skinny Taste (love her!) and went from there. After making a few additions and substitutions, it looked amazing, but did it taste as good? After the meal was chowed, and the table cleared, we dished up the crumble with some dairy free coconut vanilla ice cream and OMG! It was super YUM! So I am sharing it here with you…and let's be honest. If it turned out terrible, I would be silent as a mouse 😉 This is all that was left after we dished up and by the end of the night there were just a few small bites…and by morning there was none 🙂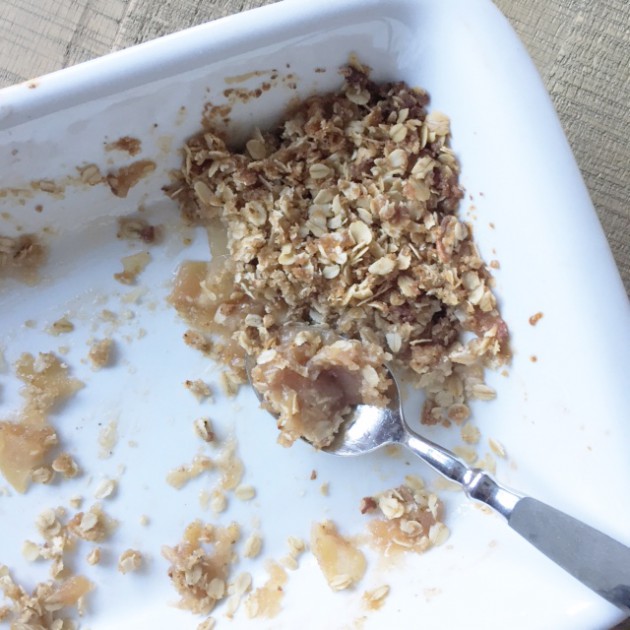 Ingredients
For filling:
4 cups peeled, sliced cooking apples such as Granny Smith
2 cups peeled, sliced slightly sweeter apple – I used Pink Lady
¼ cup honey
1/4 cup brown sugar
1 Tbsp. fresh lemon juice
3 Tbsp. corn starch
½ tsp. ground cinnamon
For topping:
1 ½ cup quick-cooking oats
½ cup packed light brown sugar
½ cup chopped pecans
2 Tbsp. almond meal
¼ tsp. kosher salt
6 Tbsp. virgin coconut oil
1 tsp. xanthum gum
Instructions
Preheat oven to 325°F.
Lightly spray 9" x 12" baking dish with oil.
For filling: In a large bowl, combine apples, honey, lemon juice, corn starch, cinnamon. Pour the mixture into prepared baking dish.
For topping: In a separate bowl, combine oats, brown sugar, pecans, almond meal, salt, xanthum gum and coconut oil. Sprinkle topping evenly over filling. Bake until browned and bubbling, 50-55 minutes.
Serve warm.
Serves 8.