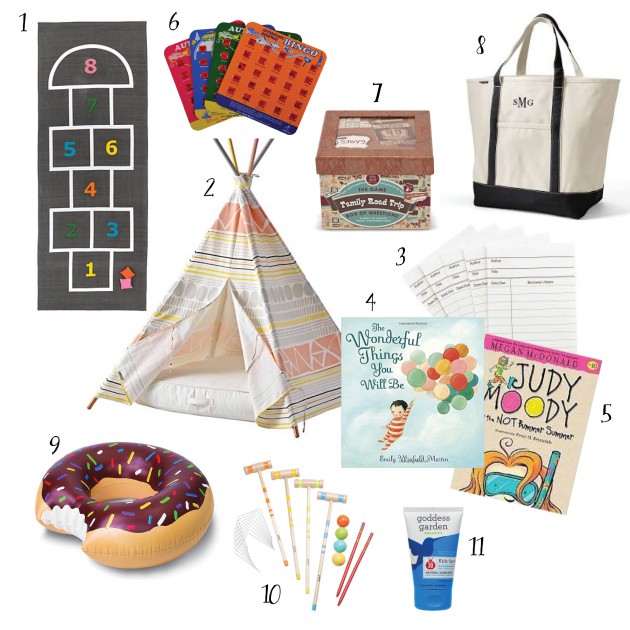 Is anyone a little freaked out about summer break and keeping the kiddos entertained for several months like I am? Well, this little survival guide might help whittle away some of those summer hours and provide some fun for all. I am ready (and my girls) for the break, the lazy mornings at home, the fun outdoor activities and even some rainy days indoors. That said, there will be days that everyone gets a little antsy. To ease some of those "ants in the pants", I've put together some of my favorite things for summer that I personally use or are on my wish list, including the links where you can find them.
For those rainy days, kids still need to get out their sillies and this hop scotch rug from Land of Nod is so darn cute.
Every kid loves to build a fort and have a special place of their own. I'm always finding all sorts of toys set up in ours. Land of Nod has sooo many cute ones to choose from. The one shown is particularly adorable. Or even build your own with blankets and chairs! We've done that too 🙂
Visiting your local library for books provides hours of entertainment and keeps those reading skills up for the next school year. Our library has a reading club (I'm sure most do!) kids can join and earn points the more they read. Take your budding readers to the library and sign them up for their own library card. They will be so proud to have a card of their own!
The Wonderful Things You Will Be is currently a best seller with adorable illustrations and perfect for the my five year old.
My seven year old is currently loving Judy Moody books. I'm not familiar with boys' books series, so if you have suggestions of some fun ones, I'd love to hear.
I'm sure most of you will be going on at least one car trip this summer. As much as I am thankful for ipads and dvds to occupy my kiddos impatient little minds, I also don't want them to remember car trips as "free reign ipad" time. Auto Bingo is the perfect way to get everyone off the screen and looking out the windows at their surroundings. Some of my best memories of car trips are seeing an amazing rainbow, rock formation or waterfall. If our noses are buried in screens, we miss it all.
Another car trip activity to get the whole family engaged is this Family Road Trip Box of Questions from Melissa and Doug.
Summer isn't complete without trips to the beach or water park. I don't know about you, but I am always amazed at the amount of gear required to do a simple outing. The towels do take up the majority of the room, but you still need some beach toys, floaties, snacks, etc. This natural canvas tote from Lands End won't let you down. I have the extra large size and use every inch of it! It's sturdy, cute and a great price for what you get.
Every beach/pool trip isn't complete without something to float on and how fun is this giant chocolate donut?
Hanging out in your backyard? Some old fashioned croquet will entertain the kiddos as well as the parents. I love the subtle colors of this Coleman set from Target.
Last, but not least, summer can't happen if you don't protect your little ones from the sun. Goddess Garden makes a great sunscreen for kids without any of the harmful junk and at a great price point. It rates very high on the EWG website so you can rest easy that your kids are protected from the sun, as well as not getting any harmful extras.
Have fun this summer and find some adventure! We plan on taking it easy for a bit after school gets out to refresh. After that, it's going to be beach, camping and maybe try a short hike. And of course visit the cousins in Colorado. What adventures do you have in store this summer?!