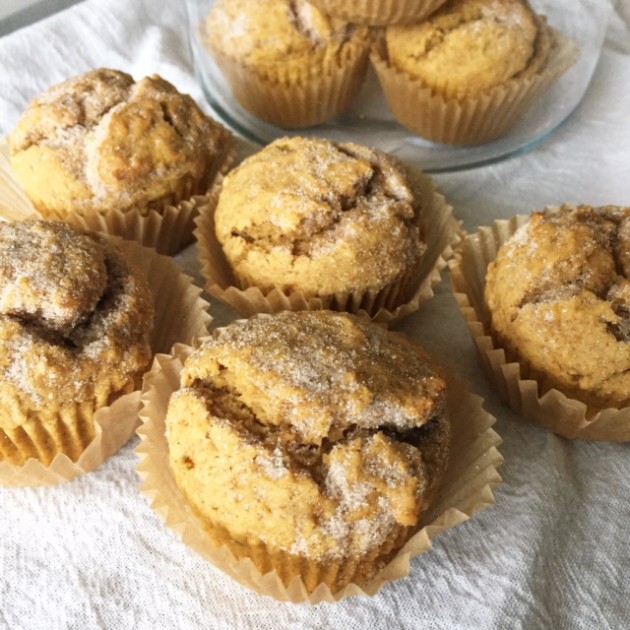 I'm a little surprised at how often I make muffins these days since I wasn't a huge muffin baker in the past. But now that my kids are going to school in the mornings and need a quick breakfast that's also wholesome, I find myself trying more and more muffin recipes. Who doesn't get tired of cereal and frozen waffles every morning! We gotta mix it up and we leave the pancakes (unless I make extra and freeze them) and smoothies for the weekends.
I had sweet potato in the freezer the other day that needed to be used (here's a HUGE tip…buy the frozen mashed sweet potato from Trader Joes! Just defrost and you are good to go!!) and so decided to make this recipe that originally used pumpkin and then I swapped out the butter for the coconut oil. Easy peasy! I personally like coconut oil in my muffins and my girls like it too, but it can make the texture a little denser. That said, I love the added flavor the chai tea brings to these muffins.
Sweet Potato Chai Doughnut Muffins Author: Adapted from Martha Stewart Ingredients
For the muffins: Makes 12
⅓ cup milk
1 bag chai tea
10 tablespoons coconut oil
2 cups all­purpose flour, plus more for pan
1 cup whole wheat flour
2½ teaspoons baking powder
1 teaspoon salt
½ teaspoon nutmeg
¼ teaspoon allspice
¼ teaspoon cardamom
¼ teaspoon baking soda
1¼ cups cooked and mashed sweet potato (pumpkin can easily be substituted)
¾ cup lightly packed brown sugar
2 eggs
For the sugar coating:
¾ cup granulated sugar
2½ teaspoons cinnamon
Directions
1. Pour milk into a mug or small microwaveable bowl. Heat in microwave 40 seconds until hot (but not scalding). Steep tea in milk 10 minutes.
2. Meanwhile, heat oven to 350 degrees F. Butter and flour 12 standard muffin cups. In a medium bowl, whisk flour, baking powder, salt, nutmeg, allspice, cardamom and baking soda until well combined.
3. Remove tea bag from milk, squeezing out any extra liquid and flavor from bag. Pour milk into a small bowl and stir in canned pumpkin until mixture is well combined.
4. In a large bowl or bowl of a stand mixer, beat oil and brown sugar on high speed 1 to 2 minutes. Add eggs, one at a time, beating well after each addition.
5. Using a spatula, wooden spoon or stand mixer on low speed, alternate stirring in flour (in 3 additions) and sweet potato mixtures (in 2 additions), beginning and ending with flour mixture, just until batter is combined.
6. Spoon batter evenly into prepared muffin cups. Bake 23-25 minutes until a toothpick inserted in center comes out clean. Cool muffins 10 minutes in pan on a cooling rack.
7. Meanwhile, in a small bowl, whisk together sugar and cinnamon. One at a time, remove muffins from pan then roll in sugar­cinnamon mixture. Transfer to cooling rack to cool completely.