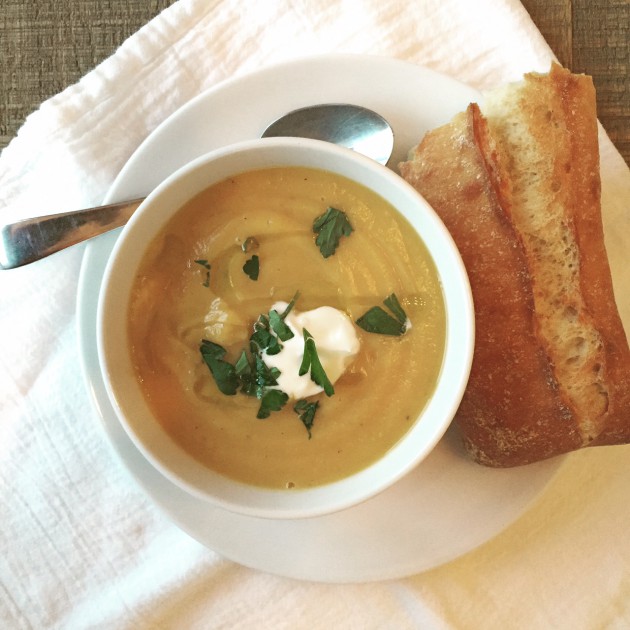 I just finished up an evening with long time girlfriends. It's our second annual gathering to wrap presents for an adopted family and I have to say, it's something that I am so thankful we started last year and hope we continue for many years to come. I'm also wondering why we didn't start it sooner?! Thank you Kelsey for kick starting us! It's the least we can do for those in need, especially when we all pool our resources together and buy gifts for a family that needs a little extra help over the holidays.
Not only does it feel good to wrap presents for others, but it's a great excuse for us to all gather together when our lives are so busy with our own families and children and activities. We get to chat, drink wine, and nibble while we wrap the gifts. I wish we could do this more often, but I will take what I can get!
A humble offering of soup seemed right for the occasion (plus I've been on a soup kick these last few weeks…tomato, pesto vegetable with orzo, cream of broccoli and potato leek), so I made a roasted butternut squash and parsnip soup topped with creme fraiche and parsley. Super easy…ahem…here is the tip that makes it so easy…buy the precut squash from your supermarket!!! Just throw your squash, parsnips and onion on a pan with some parchment paper and olive oil to roast and you have pretty much finished the bulk of the work. Shazzam!
Here's the recipe for the Butternut Squash and Parsnip Soup…and scroll down for the Tomato Soup recipe from an earlier instagram post too!
Butternut Squash and Parsnip Soup
4 Cups cubed butternut squash (approx. 1.5″)
3 peeled and cubed parsnips
2 medium onions cut in large chunks
6 cups vegetable stock
1/2 tsp thyme
1/2 tsp garlic powder
1/2 tsp dried mustard
pinch of cayenne
salt and pepper to taste
drizzle of cream or half and half
Heat oven to 400 degrees. Spread the chopped vegetables on a parchment lined sheet pan tossed with a few tablespoons of olive oil and roast in the oven for 40 minutes or until soft. Place roasted vegetables in a large pot and add vegetable stock. Heat to a low boil and add remaining ingredients. Then using a stick blender (my preferred method), blend the soup until smooth. Serve and top with creme fraiche and parsley.
* You can easily substitute other vegetables for the parsnips, such as carrots, potatoes, etc.

Fresh Tomato Soup
1 slice onion
4 whole cloves of garlic
3 tablespoons olive oil
4 cups chopped fresh tomatoes
2 cups vegetable or chicken broth
2 tablespoons chopped basil
2 tablespoons butter
2 tablespoons all-purpose flour
1 teaspoon salt
pepper
2 teaspoons white sugar, or to taste
drizzle of balsamic vinegar
drizzle of cream or half and half
In a stockpot, over medium heat, saute the onion and garlic cloves for 8-10 minutes. Add broth and tomatoes and bring to a boil, and gently boil for about 20 minutes to blend all of the flavors. Add the chopped basil. Remove from heat and run the mixture through a food processor or use a stick blender (my preferred method) and blend until smooth.
In a small pot, melt the butter over medium heat. Stir in the flour to make a roux, cooking until the roux is a medium brown. Gradually whisk in a bit of the tomato mixture, so that no lumps form, then stir in the rest. Season with sugar, salt, balsamic, cream and adjust to taste.