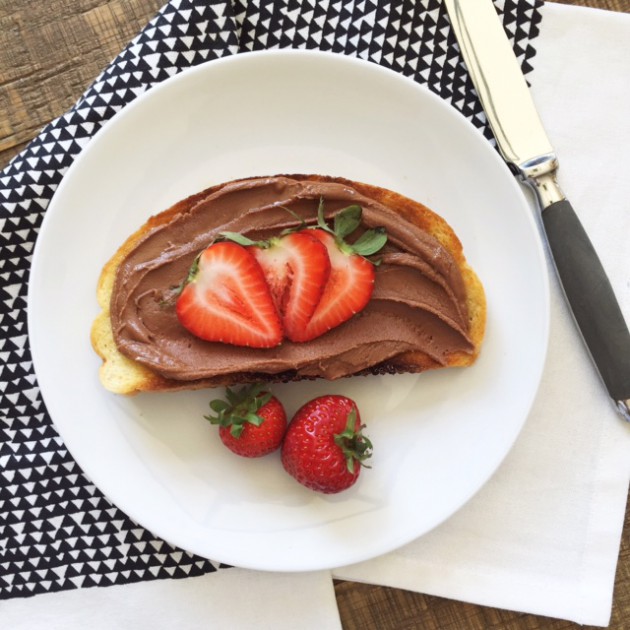 Oh my goodness ladies and gents! Who doesn't like chocolate spread?! And if you are like me, you would prefer a healthier version of the said "Nutella" version. This recipe could easily be used with hazelnuts for a more authentic Nutella taste, but I love it with almonds and so here is my version. It's so easy to make (especially if you have a Blendtec or Vitamix blender) and you can eliminate some of the guilt when bribing your kiddos with some chocolate on their toast! Made with healthy coconut oil and almonds, it's heavenly on toast topped with berries, sandwiches, inside/on top of muffins, used as tart filling, etc, etc. There is some sugar in there, but I reduced it as best as I could and still maintain some of the sweetness.
I'm trying to be good, but I can't help but "clean" the knife when I am making the kids sandwiches! Stay tuned for a freebie Father's Day card next week and take a peek at my Holiday card in the previous post…it's up for voting on Minted (link to vote in post)!!! Eeck!
Ingredients
2   cups 
toasted almond slivers
1⁄2  cup coconut oil, melted
1⁄2  cup cocoa powder
3/4 cup powdered sugar
Directions
Add coconut oil and almonds to blender and secure lid. Blend on a low speed for 15 seconds and then increase to a high speed for 35 seconds.
Stir mixture towards center of jar, then secure lid.
Blend on a medium speed for 50 seconds more.
Add cocoa powder, vanilla extract, and powdered sugar to jar and secure lid. Blend on a medium speed for 50 seconds.
Store in an airtight container in the refrigerator for 4-6 weeks. Bring to room temperature before serving.