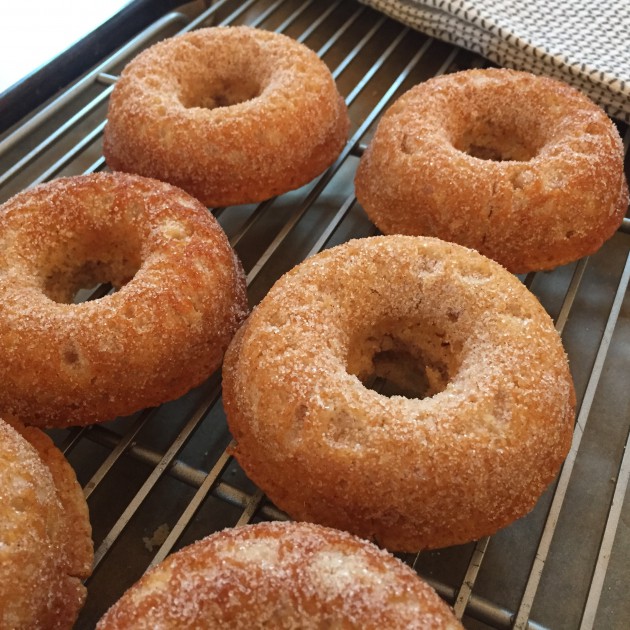 Can I just say these donuts are yummy, festive and easy. I made these on Friday, it's now Monday and the last one was just downed this morning by my four year old. And it was a big batch! I adapted the recipe from Ina Garten and let's face it, her recipes are pretty amazing! If you don't have a donut pan, you could easily make these in to muffins, but I strongly urge you to get yourself one (or two) for baking donuts (so much healthier than frying!). The family will love you for it!
Here's the recipe so you can get your donut on:
2 cups all-purpose flour
1 1/4 cups sugar
2 teaspoons baking powder
1 teaspoon ground cinnamon
1/2 teaspoon kosher salt
1 extra-large egg, lightly beaten
1 1/4 cups light or regular eggnog
2 tablespoons unsalted butter, melted
2 teaspoons pure vanilla extract
For the topping:
1/2 cup sugar
1/2 teaspoon ground cinnamon
Preheat the oven to 350 degrees. Spray 2 doughnut pans well.
Into a large bowl, sift together the flour, sugar, baking powder, cinnamon, nutmeg, and salt. In a small bowl, whisk together the egg, milk, melted butter, and vanilla. Stir the wet mixture into the dry ingredients until just combined.
Spoon the batter into the baking pans, filling each one a little more than three-quarters full. Bake for 17 minutes, until a toothpick comes out clean. Allow to cool for 5 minutes, then tap the doughnuts out onto a sheet pan.
Combine the sugar and cinnamon in a small bowl. Dip each doughnut first in the cinnamon sugar, either on one side or both sides.