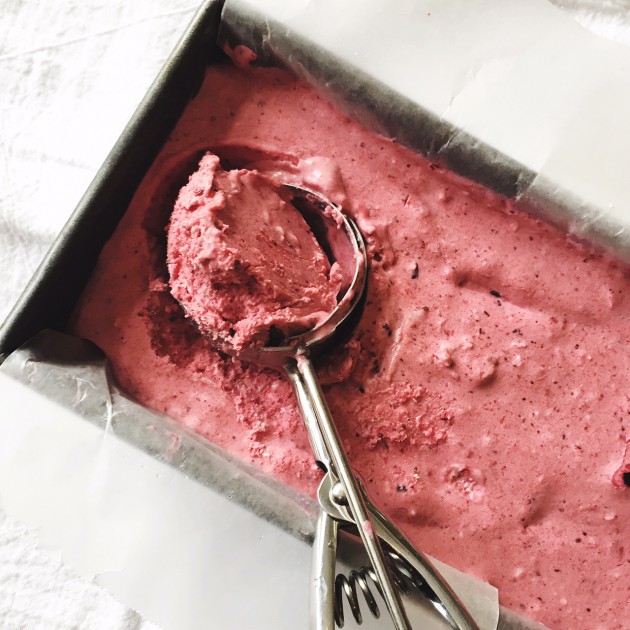 My seven year old has been in the kitchen lately and she is doing a fantastic job. I'm not sure if she has a knack for picking recipes or if it's her cookbook The Silver Spoon for Children, but so far she has made some really yummy dishes. The recipes are super simple, yet with sophisticated ingredients that are familiar and liked by most people. Particularly children! And the illustrations are fun to look at too! I highly recommend this for your kiddos.
This triple berry ice cream is…how do I say this?…A.MAZING!  I can usually skip ice cream to save a few valued calories, but this is worth it. So worth it. Here's the recipe in case you don't go out to get the book. But really, the cookbook is worth it even if you are not a kid.
Triple Berry Ice Cream
Ingredients
1 Cup Heavy Whipping Cream
3.5 Cups of frozen berries such as blackberries, raspberry's, redcurrants or blackcurrants (I used Trader Joes mixed berries)
Half a Lemon
1 Cup Super Fine Sugar
Directions
This recipe makes enough for 6-8 people.
1. Pour the cream into a big bowl and using a hand whisk or electric whisk, whisk until it holds in soft peaks-when you lift the whisk out it should look like snowy mountains (if you whisk the cream to long it becomes firm & stiff).
2. Put the frozen berries into the food processor. Squeeze the lemon juice over the fruit, add the sugar and whiz until mashed up.
3. Spoon the mashed berries into the whipped cream and carefully fold everything together. Spoon into a freeze proof container (I used a bread load pan)), cover and freeze for 3 hours or until frozen.