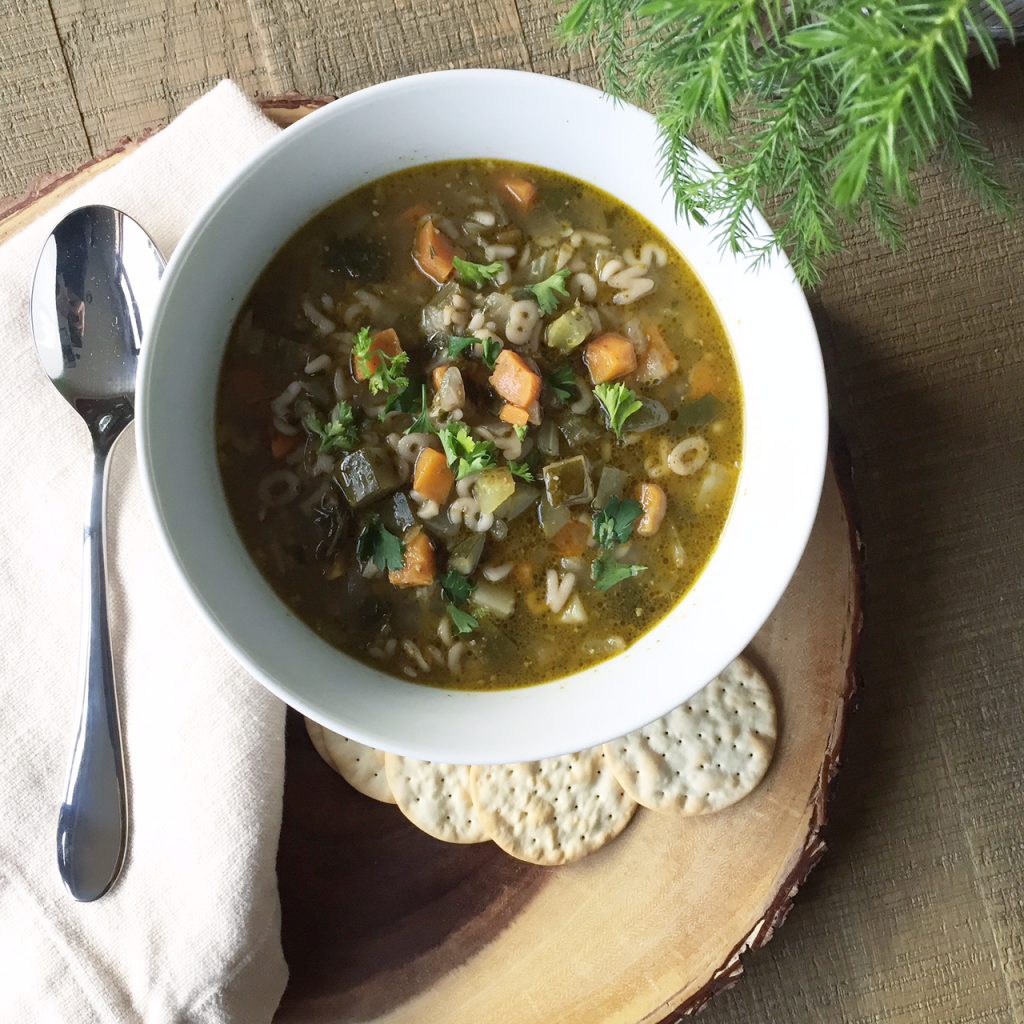 This is by far my favorite vegetable soup. I usually think they can be bland and boring. So one day I had a little bit of pesto left over and decided to at it in…can't hurt I thought. And wow, just that little bit elevated the flavor to a new level!
Here's my other secret for us lazy…err I prefer to use the term "busy"…people. Pick up some pre chopped Mirepoix (onion, carrots and celery). It seriously cuts down on chopping time and is inexpensive. Trader Joe's carries it in a 14.5 ounce container and all the work is done for you. It's the perfect amount for a pot of soup – I'm telling you folks, I use this almost every time for soups now. Also to cut down on time, Trader Joe's fresh Genova Pesto tastes almost like home made. This soup comes together in no time when you only have to chop a few things! And it's so comforting on a chilly winter day.
Lazy Vegetable Pesto Alphabet Soup
Ingredients:
2 tblsp olive oil
14.5 oz pre chopped Mirepoix
1-2 small chopped zucchini 1/4″ cubes
2 32oz vegetable stock
1-2 cups roughly chopped fresh spinach
1/2 cup chopped parsley
3.5 oz fresh basil pesto
1 cup alphabet past or your favorite mini pasta
Salt and pepper to taste
Directions:
Heat oil in a large pot over medium heat. Add Mirepoix and chopped zucchini to saute for 5-8 minutes until soft. Add stock and bring to a boil. Add spinach, parsley, pesto and pasta. Simmer for 15-20 minutes (until pasta is cooked). Salt and pepper to taste.
It's as easy as that! In about 30 minutes start to finish you have a healthy, cozy and yummy meal 🙂