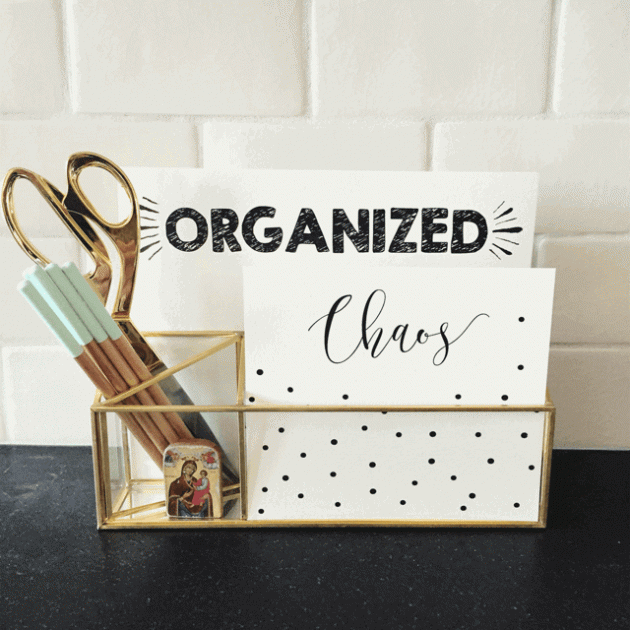 For years I have had to stare at our pathetic mail organizer on the counter across the kitchen island where a spend a good portion of my day. I have never liked it no matter if it was clean and organized or messy…which was 99.9% usually the case. I've always wanted to get rid of the thing, but I have never been able to find suitable homes for those random bits of mail/coupons/business cards/Netflix mover to return or the odd leftover school picture. So after about nine years of internal mental deliberation, I finally came to peace with my nemesis. It won't go away. Ever. Even if I put it all in the junk drawer below, those random bits of things will start creeping back on the corner in plane view and mock me in my defeat. Soooo, if you can't get rid of it, why not make it prettier?
This is a picture of it cleaned up in the new organizer – still way better than it was, but I wasn't happy.
Once I finally got around to finding a prettier version of what I had and one that contained the chaos better, I felt a lot better about my enemy. BUT, it still looked messy!! Aaagh! Then a light bulb went off in my head. If you can't clean it, hide it. That's what under the bed is for and those weirdly shaped under stair closets, right?! So out came my ruler to measure and I got to designing a typographic cheeky phrase that was both fun, clean and measured perfectly to hide my eternal chaos. I have to say, I am far more zen every time I look up from my kitchen sink and see my "neatly organized" mail  😉 It's still all there, just hidden! What do you think?