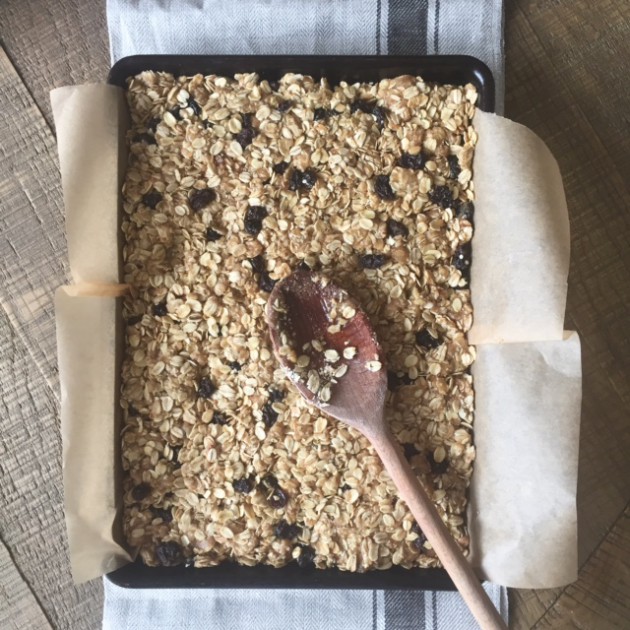 It was a granola bar kind of day around here – cloudy and kinda slow. I do a different variation of this recipe almost every time, but today I wanted to keep it simple and classic with the flavors of oatmeal raisin cookies. I have brought these bars to plenty of parks, picnics and play dates and I have never met a kid (or husband) that didn't like them. They whip up super quick, make a ton and last for at least a week or more. A pretty perfect snack if you ask me.
Feel free to add in, swap or exchange ingredients. I substitute some of the oats for rice crispies, use coconut flour, add flax, hemp or chia seeds at times too (I did throw in a little hemp seeds in this batch!!). Dried cranberries, dates, apricots or cherries are also yummy alternatives. The one thing I don't alter is the coconut oil. I tried several batches with butter and/or oil and they both fell apart or were too greasy. The coconut oil is perfect for melting and then solidifies when it's cooled – plus it's a healthy alternative and adds flavor. Have fun experimenting!
Ingredients
4 1/2 cups rolled oats
1 cup whole wheat flour
1 teaspoon baking soda
1 teaspoon vanilla extract
2/3 cup coconut oil melted
1/2 cup brown rice syrup (or honey)
1/3 cup packed brown sugar
1 tsp cinnamon
1 cup raisins
Directions
Preheat oven to 325 degrees F (165 degrees C). Lightly grease one 9×13 inch pan or line it with parchment paper.
In a large metal mixing bowl melt the coconut oil over the stove top (very important it's metal! Otherwise melt it in the microwave). Add brown sugar, brown rice syrup and vanilla and mix until combined.
Add in the oats, flour, baking soda, and cinnamon and mix until combined. Stir in raisins.
Press mixture into the prepared pan. Bake at 325 degrees F (165 degrees C) for 18 to 22 minutes or until golden brown. Let cool for 10 minutes then press down again with a flat surface (a measuring cup works great). Cut into bars. Let bars cool completely in pan before removing or serving.